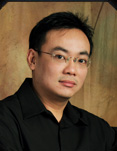 Biodata
Andy Djati Utomo was born on January 15, 1977 in Semarang, Indonesia. Since teenager, he already knew what he wanted to become, namely a floral designer. After completed his formal education as Interior Designer, he learned more seriously in floral art and traveled to some countries to educate himself.
Andy Djati Utomo has been in the floral industries for over 17 years. In 1997, in the age of 20, he already won Indonesian national floral arranging competition. As a young floral designer, now he is a leading floral designer in Indonesia.
Throughout his distinguished career in the industry, he joined several exhibitions, also conducted demonstrations for the amateurs as well as the professionals and these has taken him to major cities in Indonesia and some countries like Japan, Singapore, Malaysia, Thailand, China, and Korea. He has traveled extensively for major floral events as demonstrator, lecturer, exhibitor, judge and designer. He also represented Indonesia in some International Floral event like Floral Star in Macau in 2005, and 1st Asian Floral Designers Union in Korea, 2006,  Singapore Garden Festival in 2008, and Putrajaya Flower and Garden show in Malaysia 2010.
Andy is well versed in a variety of floral art design forms including European Floral Art, Modern Floral Design, Commercial Floral Design and Ikebana Floral Art. His unique and creative designs have been featured in International Florist publications, such as International Annual Floral Art 06/07 (Belgium Publishing), Fusion Flowers Magazine (Scotland-United Kingdom), Fleur Creatif and Today Floral Magazine (Korea).
Andy is a member and part of the committees of some local and International Floral Organizations like:
President of Indonesian Flower Arranger Association from 2008 to 2012
Accredited member of American Institute of Floral Designers
Secretary of International affair of Ikebana International chapter 224 Jakarta
Member of World Flower Council
Member Floral Designers Society of Singapore
Committee member of Indonesian Flower Association
Committee member of Ikebana Ikenobo Society of Indonesia
Since 2000, he has been active in giving floral lectures to his student in many different floral design school. As an instructor in floral design, Andy is very pleased to see students complete the course and master the art of floral design. He received certificates from the ministry of national education as Master Examinator in National Floral design examination.
Now he own his own studio, named INTUITION FLORAL ART STUDIO, a place for him to teach his students. The studio where located at :
Bellezza Permata Hijau
Shopping Arcarde L1 – 35,
South Jakarta.
Telp : +62 – 21 – 373 555 72
E-mail : intuition_floralartstudio@yahoo.co.id.